WHAT ARE ANKYLOSING SPONDYLITIS (AS) AND NON-RADIOGRAPHIC AXIAL SPONDYLOARTHRITIS (NR-AXSPA)? 
Ankylosing spondylitis (ank-kih-low-sing- spon-dill-eye-tiss) and non-radiographic axial spondyloarthritis (non ray-dee-oh-gra-fick aks-ee-al spon-dill-low-arth-reye-tiss) are chronic, inflammatory diseases that primarily attack the spine.
AS and nr-axSpA can also cause pain and stiffness in other areas of the body, like: 
shoulder blades
hips
feet
AS and nr-axSpA are often confused with mechanical pain—the kind caused by physical strain or injury. 
Axial spondyloarthritis (axSpA) is a term you might hear that refers to chronic inflammatory diseases affecting the spine. Both AS and nr-axSpA belong to this category. 
It's important to understand that AS and nr-axSpA are inflammatory diseases – not symptoms of a slipped disk, a sprain or muscle strain. 
Here are some ways that could help you determine whether your back pain is mechanical or inflammatory: 
Usually caused by physical strain to the back (e.g., a sprain or muscle pull)
Typically recognized by pain that:
Lasts less than 3 months
Feels better with rest
Can begin suddenly
Caused by the immune system attacking healthy tissue, resulting in inflammation in the joints of the spine
Typically recognized by pain that:
Lasts longer than 3 months
Feels better with exercise
Worsens and spreads to other areas of the body over time
Talk to your doctor if you're experiencing any of the symptoms in the table above. Only your doctor can diagnose the type of back pain you're suffering from.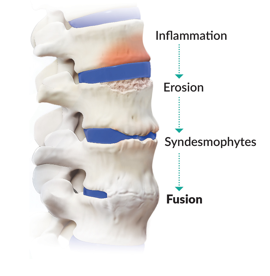 If you haven't heard of AS or nr-axSpA, you're not alone. Part of the reason is both are difficult to diagnose.
Some people who have AS or nr-axSpA experience mild back pain that comes and goes, while others have chronic pain. Over time, inflammation can lead to severe cases of ankylosing spondylitis and can cause the bones of the spine, neck, or rib cage become rigid. If bones in the rib cage fuse together, it can eventually lead to ankylosing spondylitis, and make breathing more difficult.