Discuss your options with your doctor
When you have ankylosing spondylitis (AS) or non-radiographic axial spondyloarthritis (nr-axSpA), you and your rheumatologist will decide a treatment plan. In addition to medication, your doctor may recommend a regimen of exercise and physical therapy as part of your treatment plan to help improve your posture and mobility. While there is no cure for ankylosing spondylitis, treatment can help reduce the pain and stiffness it causes. Have open and honest talks with your rheumatologist about the appropriate therapy for you and your goals.
NSAIDs (non-steroidal anti-inflammatory drugs) such as aspirin, ibuprofen, naproxen
Used to

treat pain and swelling

Usually the first medications doctors prescribe.

Sometimes NSAIDs may not be helpful enough in reducing symptoms
Biologics
Biologics

are pharmaceutical products manufactured in a living system such as a

microorganism or plant or animal cell
May be used if NSAIDs aren't doing enough.

Your doctor may suggest a biologic to help reduce pain and stiffness in your spinal joints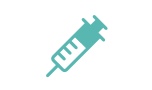 Oral Small Molecules
Oral Small Molecules are prescription medications that treat inflammatory diseases and are taken as a pill

May help reduce pain and stiffness in spinal joints, and improve physical function
Corticosteroids (steroids)
May be prescribed for a short term orally or given as a

localized injection

May be recommended to help

reduce pain and inflammation

Surgery
Select patients with severe disease and limited mobility may benefit from spine or hip surgery. It is important to discuss all treatment options and their risks and benefits with the appropriate specialists.
The danger of not treating AS and nr-axSpA
Not treating ankylosing spondylitis (AS) or non-radiographic axial spondyloarthritis (nr-axSpA) can cause radiographic changes and your pain to get worse over time. That's why it's so important to seek treatment from a rheumatologist with whom you can discuss all of your symptoms.

THE LONG-TERM  
EFFECTS OF AS AND NR-AXSPA
Over time, symptoms of AS and nr-axSpA can appear in the upper spine, rib cage, and neck.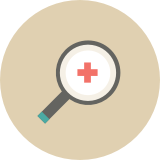 DISCOVER A TREATMENT OPTION FOR AXSPA
Learn about a treatment option that might be right for you and discuss with your doctor.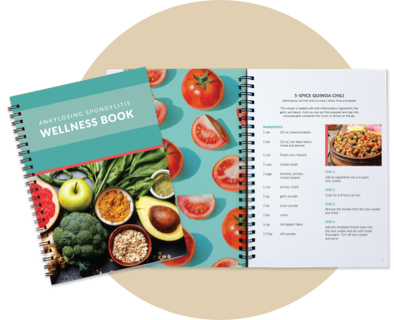 WANT A FREE WELLNESS
BOOK WITH RECIPES?
Get the Axial Spondyloarthritis Wellness Book with recipes, symptom trackers for doctor visits, exercise tips, and more helpful resources via email.